Peter Leeds is the
Authority on penny stocks!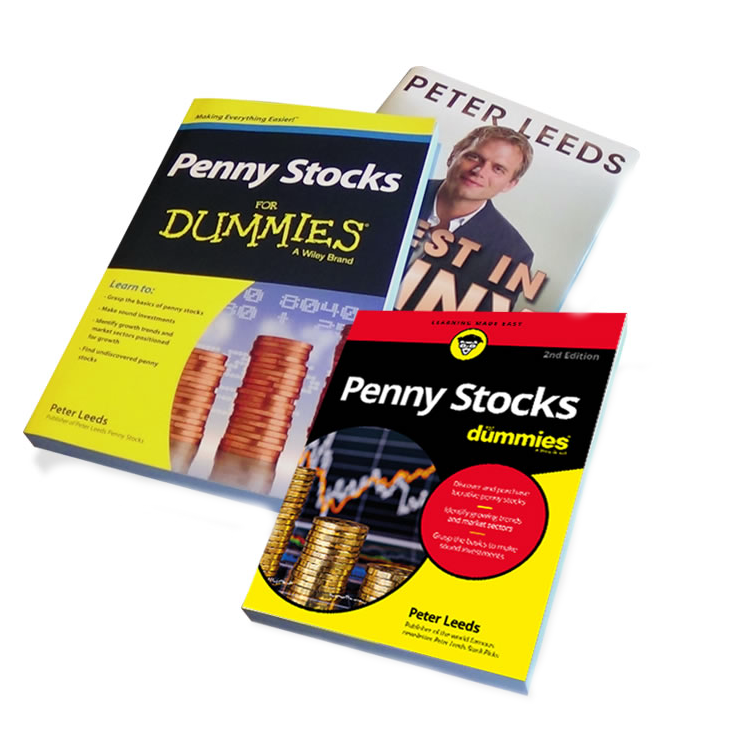 Peter Leeds is the author of 'Penny Stocks for Dummies,' and 'Invest in Penny Stocks.'
Get the honesty and integrity
Peter Leeds brings to investing.
Peter Leeds guarantees that they never accept payment from the stocks they profile.
buy/sell opinions + updates
Peter Leeds Stock Picks ($19.
99

)

Save hours with buy/sell price opinions.

Keep informed with ongoing updates.

Profit from our full analysis team.
Peter Leeds Express (FREE)
Where the stock market is going next.
Money-making insights.
Surprising strategies and tactics.
There is no commitment. If you don't like what you see, simply cancel and don't pay another cent!
We do not provide individual advice.
Penny Stock Trading Newsletter,
$19.99/mth
Our penny stock trading newsletter specializes in high quality shares under $5.
Profit as we reveal the best undiscovered companies of the highest quality. We do not provide individual advice. These low-priced shares are trading for $5 or less, some as little as a few pennies.
All picks:
Are High Quality Companies
Are Our Best Picks Ready to Increase in price
Each of our penny stock trading picks has passed Leeds Analysis and is much more likely to multiply in value in the short term.
As we say, great quality
always rises to the top!
Even brand new to trading, you get all the tools you need to be successful.
Peter Leeds and his team take no compensation from the companies they review. (Most other newsletters do, especially the free ones. How can you trust them?)
All Peter Leeds high quality penny stock picks come with the 100% Unbiased Guarantee, stating that our research is completely impartial.
And don't forget - when it comes to the best high quality stocks, Peter Leeds and his team are the most well known, most trusted source for investors to learn which shares to buy.
Remember, Peter Leeds and his team have:
Been around for over two decades!
Sold well over 35,000 subscriptions
Been featured across all top media
This is a group who truly know what they are doing!
Peter Leeds strictly maintains that all of his employees abide by the ethics and moral code he leads with. There has never been, nor will there ever be, a single penny in compensation for any of the stocks they profile. In this way, you know you can trust the honesty and integrity which the Peter Leeds team brings to bear.
Your Penny Stock Trading Advantage
When it comes to the best companies to buy, Peter Leeds is the only choice. With a full team, you will be shown opinions on which companies are best, and gain instant access to all the daily updates, full company reports, and buy and sell prices.
In fact, if you want to try any of the numerous, unproven, flash-in-the-pan services, you are truly putting your money at risk. Selecting the best companies is something that Peter Leeds and his team take very seriously, and now you can benefit from all their hard work for an extemely low price!
The best picks to buy are the ones profiled by Peter Leeds!
Get started with high quality stocks to buy right now!
Offensive Against ISIS Launched 85 Minutes Ago
by Peter Leeds
Read all the past Blog entries here
Have you ever noticed that there are NO ADS on:
Peter Leeds sites
Peter Leeds YouTube videos
There is way too much unprofessional, garbage pop-ups and advertisements which are claimed to know the "types of things you are looking for," or put promotions in your face which you don't care about.
My all-time favorite is the one where you click to close a window, then you have to confirm you want to leave the page.
Where's the respect for trusting that a person knows what they want, and has the capacity to find it?
That's my rant. On another note, the Interior Minister of Greece said Sunday that the country is, "near financial collapse." Big surprise.
Greece has a major debt payment due June 5th. That is in 10 days, and while much of this is posturing to get a better deal, the International Monetary Fund either has to loan a bunch of Euros to Greece which can not be repaid, or let the European Union lose it's first Nation.
Option A will be better for all, and more likely, but if Greece defaults, there will be major shockwaves affecting stocks worldwide. The IMF assistance is priced into stocks, so if things don't play out that way, we get the inevitable adjustment of shares from Japan to Manhattan.
Iraqi forces have launched (85 minutes ago) an offensive to drive ISIS out of Anbar, which involves Ramadi. This will just become an expansion of Sunni-Shiite tensions, exasperated by our ill-advised involvement.
However, the Iraqi forces need to get a 'W' under their belts, and taking back any territory may bolster their confidence. With "eyes in the sky" (our drones), they know what they are rolling towards, and if aiming for a strategic win, they will not be taking on a fight that they will lose, which will embolden ISIS, and therefore be counter-productive.
Many important oil fields are in play on the peripheral of many Middle Eastern crisis zones, and we will keep an eye on developments in all of them.