Peter Leeds Has Provided
PENNY STOCK PICKS
to More Than 41,109 Subscribers
Peter Leeds is the
Authority on penny stocks!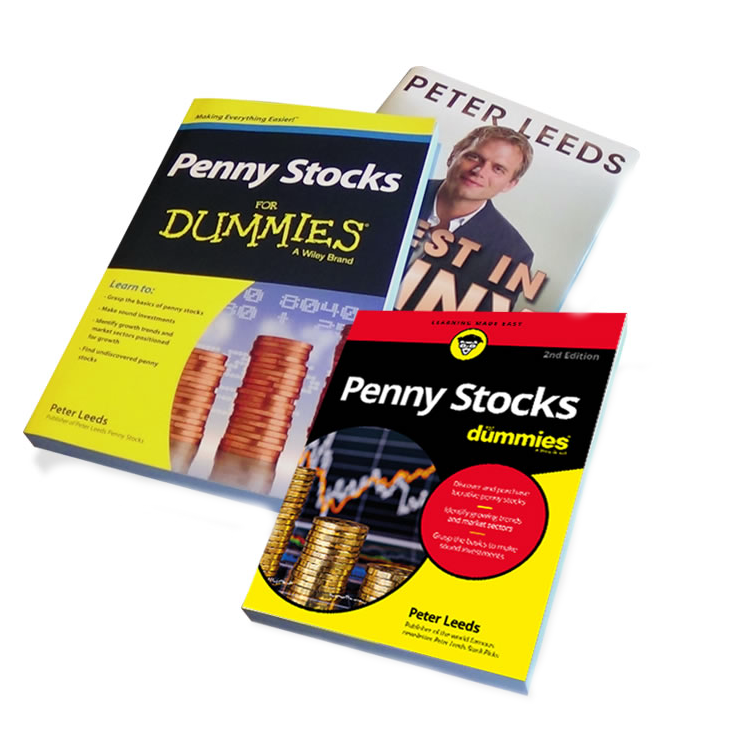 Peter Leeds is the author of 'Penny Stocks for Dummies,' and 'Invest in Penny Stocks.'
Get the honesty and integrity
Peter Leeds brings to investing.
Peter Leeds guarantees that they never accept payment from the stocks they profile.
buy/sell opinions + updates
Peter Leeds Stock Picks ($19.
99

)

Save hours with buy/sell price opinions.

Keep informed with ongoing updates.

Profit from our full analysis team.
Peter Leeds Express (FREE)
Where the stock market is going next.
Money-making insights.
Surprising strategies and tactics.
There is no commitment. If you don't like what you see, simply cancel and don't pay another cent!
We do not provide individual advice.
Penny Stock Trading Newsletter,
$19.99/mth
Our penny stock trading newsletter specializes in high quality shares under $5.
Profit as we reveal the best undiscovered companies of the highest quality. We do not provide individual advice. These low-priced shares are trading for $5 or less, some as little as a few pennies.
All picks:
Are High Quality Companies
Are Our Best Picks Ready to Increase in price
Each of our penny stock trading picks has passed Leeds Analysis and is much more likely to multiply in value in the short term.
As we say, great quality
always rises to the top!
Even brand new to trading, you get all the tools you need to be successful.
Peter Leeds and his team take no compensation from the companies they review. (Most other newsletters do, especially the free ones. How can you trust them?)
All Peter Leeds high quality penny stock picks come with the 100% Unbiased Guarantee, stating that our research is completely impartial.
And don't forget - when it comes to the best high quality stocks, Peter Leeds and his team are the most well known, most trusted source for investors to learn which shares to buy.
Remember, Peter Leeds and his team have:
Been around for over two decades!
Sold well over 35,000 subscriptions
Been featured across all top media
This is a group who truly know what they are doing!
Peter Leeds strictly maintains that all of his employees abide by the ethics and moral code he leads with. There has never been, nor will there ever be, a single penny in compensation for any of the stocks they profile. In this way, you know you can trust the honesty and integrity which the Peter Leeds team brings to bear.
Your Penny Stock Trading Advantage
When it comes to the best companies to buy, Peter Leeds is the only choice. With a full team, you will be shown opinions on which companies are best, and gain instant access to all the daily updates, full company reports, and buy and sell prices.
In fact, if you want to try any of the numerous, unproven, flash-in-the-pan services, you are truly putting your money at risk. Selecting the best companies is something that Peter Leeds and his team take very seriously, and now you can benefit from all their hard work for an extemely low price!
The best picks to buy are the ones profiled by Peter Leeds!
Get started with high quality stocks to buy right now!
1 Major Stock Trading Advantage This Summer
by Peter Leeds
Read all the past Blog entries here
1 Major Stock Trading Advantage This Summer
Name the 1 Time Putin has Backed Down
Why Greece Matters + Ends Badly Even with a Deal

1 Major Stock Trading Advantage This Summer
Most investors go away for the summer, or at very least they decrease their level of activity. You will even see that the number of shares swapping hands is often down over the best-weather months.
Well, just like Warren Buffett suggests, to get a great deal you should buy your snow shovel in the summer, and your BBQ in the winter. As most people are waterskiing or tanning, there are great profits to be made.
This is especially true for already thinly-traded penny stocks, because the anemic buying volume often results in shares dipping significantly (on even the smallest sell order). One small sale can sink the shares for a few minutes, just long enough to give you a great bargain (if your
"market order" to buy
is already positioned).
You won't be competing with as many other investors, so your low-ball offers are more likely to get filled.
At the same time, the companies are still reporting their progress, financial results, new customers, and operational press releases. With most events, the shares will move more slowly and less significantly than they might have in February, April, or November.
In other words, there will be a muted, delayed response to just about every aspect of a company's operations. For those watching the underlying business closely, you will have an advantage while other traders are away. By the time they are recovering from their sunburns, you could be in a solid profit position.
In other words, don't discount the summer months simply because few others seem to be around. Instead, make your moves during the quiet times BECAUSE no one else is around.
Name the 1 Time Putin has Backed Down
Putin has never backed down. Not publicly, at least. And like all people on this planet, he will continue to act as he has always acted.
Our recent commitment to send the Baltic States tanks and howitzers is more posturing. One extra combat brigade will not alter the outcome of any potential scenario, of which there will not be one.
In the meantime, Russia is consolidating in any way they can in response to questionable sanctions imposed upon them. Besides deals with China, Greece, and some South American nations, they've also bolstered their Intercontinental Ballistic Missile inventory by 40, which is like adding a rock to a mountain. And just like the U.S. military equipment sent to Bulgaria, Romania, Poland, and others, the ICBMs will never be used (and if I'm wrong, you won't get a chance to call me out on it!)
Why Greece Matters + Ends Badly Even with a Deal
As soon as Greece does in fact get a deal, despite it being good news. the markets might sink. Just like
the shares held up in Sirius and XM satellite radio
until the long-awaited merger between the 2 companies... and then the penny stock dove like a Peregrine Falcon.
The market is
worried about a Greek default
. Everyone should also be concerned about a potential deal between Greece and the IMF. As distraction is eliminated, it forces investors to really take a look at the "books," which in the case of Greece are startling.